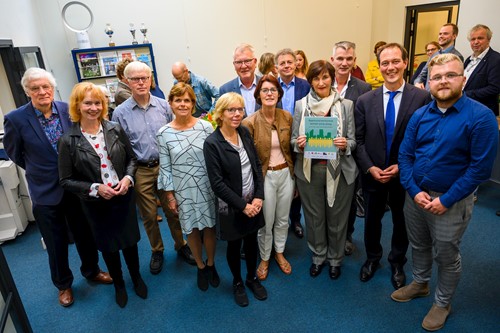 More, better and sustainable affordable homes
Together with The Hague housing corporations, tenants associations and municipal councillors Boudewijn Revis (Housing & Urban Development) and Liesbeth van Tongeren (Sustainability & Energy Transition), we have today signed the first joint agreement, an ambitious vision document. This agreement sets out the aims of corporations, tenants and the municipality up to 2024. The goal of these ambitions is to make The Hague housing market more affordable, accessible and sustainable.
Councillor Boudewijn Revis: "Everyone in The Hague knows someone who is looking for a place to live. The pressure on the housing market, also in the social sector, is enormous. That's why it's good that we're going to expand and improve the affordable housing stock with these three parties. For the first time, together with tenants, housing corporations and the municipality, we have a single target for the future: a well-balanced housing market with sufficient affordable housing for every inhabitant of The Hague".
Among other things, the agreement contains commitments to realise 750 additional affordable homes per year. Furthermore, all complexes that have problems with humidity and mould must be addressed before 2024 and 16,000 homes will be prepared to make the transition to sustainable energy.
De Eerste Kamer is pleased to be taken seriously as a relatively young association and representative of student housing. We are working with DUWO to put student housing higher on the agenda. The annual Apollo figures still show a large shortfall in the demand for student rooms. Kences, the partnership of social student housing companies, to which DUWO is affiliated, monitors the student housing market on an annual basis. Now that we have signed the agreement, we must remain attentive to the agreements made and whether the housing stock is increasing sufficiently.